Surreal Namibia
A land you never imagined could exist, Namibia, like no other, combines the spectacular, the endless, the surreal. Namibia is, in one word, otherworldly. Vast, ancient and extremely sparsely populated, it contains an unimaginable variety and combination of natural landscapes. A land where you can visit and gaze at the world's second largest canyon, islands of ancient mountains surrounded by an infinite sea of golden grasses, the expanse of the world's tallest, and surely most beautiful, ochre colored dunes, the plains of an earth churned and folded by infinite geological forces, the jaw dropping vista of gigantic dune fields extending to the very edge of the Atlantic ocean, and the unparalleled wildlife viewing opportunities in the North. Namibia is nothing other than a photographer's dream. Please enjoy my collection of images, with descriptions, which I hope will convey to you the spectacular, unique country that is Namibia!
The late afternoon sun breaks through a cloudy sky to paint Namibia's ochre colored sand dunes in beautiful soft light, as an Oryx buck shelters under a tree (on the right side), dwarfed by these sand giants. An incredible combination of elements and colors!
A lone Oryx, in search of food, stumbles across a plain of rocks against the backdrop of the magnificent Namib Naukluft mountains, as the sun is about to set. It is very difficult to survive in Namibia, and it is amazing to learn how these animals have adapted to this unforgiving world.
Life flourishes everywhere! Two lone trees live on the edge of a giant dune which rises sharply above them in Namibia's Sossusvlei region. In fact, one of the trees is actually buried in the dune's sand! 
This is what makes Namibia so amazing – it is the combination of freely roaming wild animals, such as this herd of Zebras, with the most unique, almost surreal landscape I have seen anywhere in the world. The mountain you see in the background is almost completely swallowed by a vegetation covered dune! What looks like red stripes actually is the dune showing through.
The magnificent dead trees in Namibia's Deadvlei draw beautiful graphical lines against the red walls of neighbouring towering dunes. A surreal, yet mesmerizingly beautiful, combination of elements, so typical of Namibia.
Where land meets sea, something amazing happens in Namibia. Endless dune fields stretching all the way inland end abruptly where the ocean begins. To stand on top of one of these dunes, more than 100 m tall, and to take in the view of endless mountains of sand bordering the ocean, is an experience you will never forget.
The perfect light for the perfect landscape. A breathtaking scene in Namibia's Sossusvlei region as the last light of day touches a lone tree, behind which towers a giant ochre colored sand dune.
A beautiful orphaned Cheetah eyes a piece of meat that its Namibian caretaker is about to feed it. It was a privilege for our group to be so close to this majestic animal.
The sun breaks through a cloud bank to illuminate the vast golden grass lands of Namibia's Namib Rand Region. It is a surreal combination of golden grasslands surrounding separated mountains, called island mountains, some of which are almost swallowed by wind blown dune sand which collected along their flanks over the ages. I rushed up one of the higher peaks in the area, in a dash to catch this short lived magical moment. For a sense of scale, note the tiny white spot on the bottom left, which is my guide's car.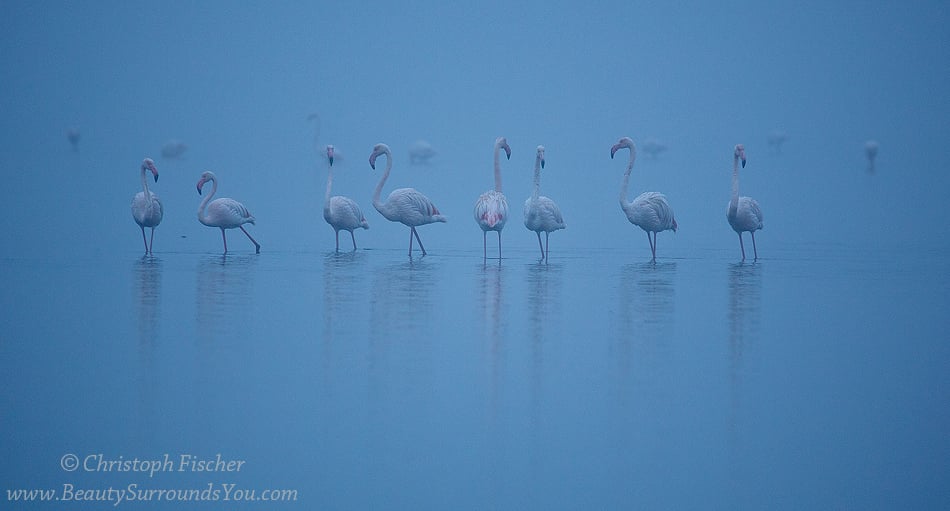 Namibia, is not all desert and dunes. It has a vast coast line with spectacular flamingo, pelican and seal populations. There are so many flamingos that it is difficult to isolate them, but the fog this morning helped, and it created a magical, mysterious mood.
The deeply contorted lands of Namibia give rise to some truly unusual and otherworldly landscapes. This particular evening, fierce winds were blowing, and the combination of twilight and windblown dust blessed us with exceptional light, transforming these strange lands into the surreal.
I spent a magical moonlit night in Namibia's Spitzkoppe, a granite playground of giant boulders and rock arches. I had so much fun, running around barefoot, and the moon was so intense, I did not even need a flash light!
Two beautiful lion cubs, fixated by a jackal passing in the distance, blend in effortlessly with the surrounding tall grasses, as they are illuminated by the last light of the setting sun in Namibia's Etosha National Park.
The transformative power of light never ceases to amaze. For a short lived moment, the soft light of the morning sun draws beautiful, dreamy bands of satin across the tips of these otherwise somewhat inconspicuous dunes in Namibia's Sossusvlei region.
The Fish River Canyon is the second largest canyon in the world, after the Grand Canyon. This particular morning, the entire landscape was lit in incredibly warm, glowing light, so typical of Namibia.
A lone majestic elephant, immortalized against Namibia's starry sky, takes its last drink before it returns to the vast, dark and dangerous night of Namibia's Etosha National Park. If you look carefully, you can see a stream of water below the elephant's mouth.
A beautiful Oryx looks back inquisitively, among the ancient and surreal landscape of Namibia's Namib Rand region. It is an exceptionally unusual part of the world which words fail to convey.
I hope this series of images gave you an idea of this unusual, utterly beautiful land of deserts, canyons, giant sand dunes, infinite grass lands, granite mountains and incredible wildlife. Of course, images can only convey that much, and I urge you to add Namibia to the list of destinations you absolutely have to visit!